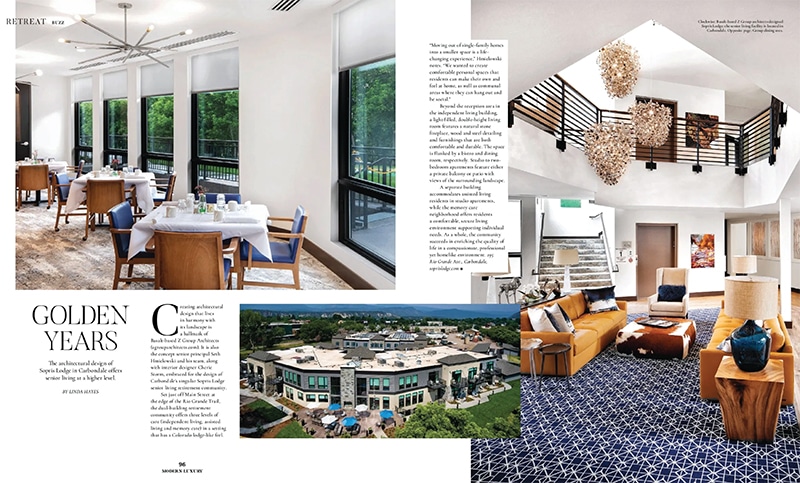 LAKEWOOD, Colo. – Aspen Magazine's midwinter issue includes an article about WellAge Senior Living managed community Sopris Lodge at Carbondale. In the annual home issue, author Linda Hayes details how the architectural design of the resort-style retirement community lives in harmony with its mountain landscape and offers elevated senior living in a relaxed setting with a Colorado lodge-like feel.
"As a whole, the community succeeds in enriching the quality of life in a compassionate, professional yet homelike environment," Hayes writes.
Opened in 2021, Sopris Lodge at Carbondale offers 74 apartments, consisting of 27 independent living residences, 23 assisted living residences, and 24 memory care studios in a separate, secure neighborhood setting. The independent living residences feature a choice of studio, one- and two-bedroom apartments – complete with high-end finishes, walk-out balconies/patios, washers and dryers and modern technologies. The assisted living residences feature studio apartments with kitchenettes and walk-in or wheel-in showers. Sopris Lodge's memory care neighborhood provides a comfortable, safe and secure environment in a homelike setting that offers person-centered care 24/7.
Conveniently located on the western edge of Carbondale, Sopris Lodge's senior living campus is within walking distance of downtown's retail shops, restaurants, parks and art venues. It is also adjacent to the Rio Grande Recreational Trail and True Nature Healing Arts Center.
Read the full story to learn more about this comfortable senior respite offering independent living, assisted living and memory care in a quaint Rocky Mountain town.
About WellAge Senior Living
Formed in 2015, WellAge is a sister company of Vivage Senior Living, based in Colorado. For three decades, the founders of Vivage and WellAge – President and CEO Jay Moskowitz and CFO John Brammeier – have been innovators and influencers in senior living and health care throughout the western United States. Today, WellAge provides lifestyle communities with wellness programs and services that support seniors in independent living, assisted living, and memory care.